04 Apr

Hadex® Dosing Unit
Chlorinating Hadex® Dosing Units (HDU)
Secure your drinking water system with a fully automatic flow controlled Hadex® Dosing Unit. Our Hadex® disinfection treatment reduces and prevents the growth of bacteria, algae and other micro-organisms. As with any disinfectant, the correct dosage is essential for proper functioning.
Hadex® automatic dosing units are available for 10 and 25 litre Hadex® cans. The units are proportionally controlled by pulse generating flow meters. All dosing units can be customised according to your own specifications. A major advantage of our HDU is its standard packing, which is designed to be used as a dosing container. Making it safer and easy to use.
Options
For larger flows, especially in bunker systems electromagnetic flow meters are available too. These meters have no moving parts.
The dosing units can also be controlled on base of free chlorine concentration. For this an inline chlorine measurement unit is integrated. Contact our Technical Supply Team for information on a possible configuration for your system.
Hadex® dosing units are commonly used at three points in the fresh water system:
In the water maker product line
In the fresh water bunker line
After the hydrophore pumps (for re-chlorination of the distribution system)
| | | | |
| --- | --- | --- | --- |
| Part number | Size Flowmeter | Capacity nominal | Capacity Maximal |
| | (inch / mm) | (Qn m3 / hour @ ΔP 0,25 bar) | (Qmax m3 / hour @ ΔP) |
| HDU25-1601-25C | 1" | 3,5 | 5 |
| HDU25-1601-30C | 11/4" | 5 | 10 |
| HDU25-1601-40C | 11/2" | 10 | 15 |
| HDU25-1604-40C | 2" | 15 | 30 |
| HDU25-1605-65C | DN65 | 25 | 50 |
Why use our HDU
Easy to install
Compact installation
Flow controlled dosing units
Reliable, efficient and continuous chlorination
Hadex® complies with many regulations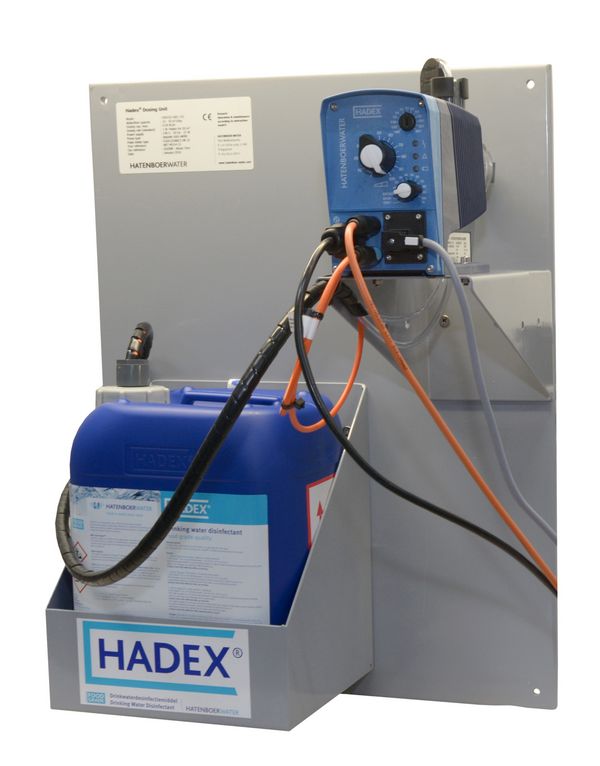 DOWNLOAD OUR TECHNICAL DATASHEETS